What if my progress is still not being saved and/or I can't find the 'Close' button while on the lesson/chapter?
This is a technical error caused by how you hold your phone each time you click on the green play button when you launch the lesson.
To fix this problem click on the button at the top of your phone screen that lets you view all tabs. Look for a tab labeled "Untitled," or "EZ Untitled," close this tab. Next you will need to turn your phone sideways (as shown on the below). Once the phone has been turned on its side, launch the lesson by clicking on the green play button.
I still can't see the 'Close' Button, where is it?
Depending on what mobile device you have, the 'close' button likes to hide. Here's how to find it. Launch your lesson with your phone turned horizontally.
Next, hold your finger down on the screen and start dragging the screen to look for the 'close' button in the upper right hand corner. Once you see it, click on it to 'close'.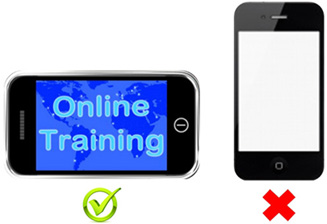 Android Phones: Here's how to download the free Mozilla Firefox web browser for Android.
Apple Products: iPhones come with the Safari browser automatically installed and it may or may not work with our training. If you are experiencing issues switch to Google Chrome or Mozilla Firefox web browser for iPhone.
Downloading a browser is super easy and free. First, you will need to go into the Play Store for Android or the App Store for iPhone. Once there, click on the search bar and type in "Free Mozilla Firefox browser" or "Free Google Chrome browser," depending on what kind of phone you have. Both apps are free. After you search and find the browser you want to download, click "Install". Wait for the app to finish downloading (this takes about 10 seconds.) When the app is done, click open and then launch the website, login as a returning student and then launch your lesson by clicking on the green play button.
If your lesson will not load, then you probably need to disable the pop-up blocker.
How to disable pop-up blocker for iPhones using Mozilla Firefox Browser: Video
If you are using Mozilla Firefox as your browser on your iPhone: To allow pop-ups on Firefox for iOS, tap the button in the top right corner. It should have a number in it (most likely a "1"). That will bring up a display of your open tabs. Then click on the gear icon in the top left corner. That will bring up the settings screen. From there, just tap on the switch beside "Block Pop-up Windows".
How to disable pop-up blocker for iPhones using Safari browser: VIDEO
Open up the settings app for your phone. Next, scroll down till you see the Safari icon. Click it. Scroll down again until you see the bar labeled, "Block Pop-ups," and press the sliding button so that it is no longer green.
How to disable pop-up blocker for Android Phones using Google Chrome: VIDEO
If you are using Chrome as your browser for your Android: Open up Chrome, and then hit the three dots menu icon in the top right-hand corner. Scroll down to 'Settings' and select it. Scroll down to, and select, 'Site Settings', and then 'Pop-ups'. Click that option.
How to disable pop-up blocker for Android Phones using Mozilla Firefox: There are no Pop-up Blocker options in Firefox for Android.
First you need to open up Internet Explorer and click on the gear icon in the top right hand corner. Then click on the 'Internet Options' tab. A new window should pop up and at the top of the new window you should see multiple tabs. Click on the 'Privacy' tab. Here you should see an option that says 'Turn on Pop-up Blocker.' Make sure the box is unchecked next to this option. Now your lessons should load and you should be able to start or continue your courses.
Yes. MONDAY THRU FRIDAY: 9AM – 9PM CST
For the quickest help, please submit a Help Request from your training account.
AFTER HOURS, WEEKENDS, AND HOLIDAY: Limited Support – Please submit a Help Request from your training account and we will respond to you as soon as possible.
Yes. All courses come with a Satisfaction Guarantee. If you are not completely satisfied with our courses, we will be happy to refund the entire costs of your course, less an $18.00 administrative fee.
You must submit your request within 10 days of registering and before attempting the final exam.
Upon completion, your certificate will be processed according to the mailing option you selected during registration. Please Note: Snail Mail Delivery can take 7 – 10 business days to arrive. Some courts require that you provide them with an original 'Court Copy' certificate, or an E-FILED Certificate. If you need your certificate sooner, we offer overnight and two-day delivery service. Be sure to call us at 800-397-1898 to sign up for this service. Don't miss your court deadline.
During registration, we will ask for your email address as well as your mailing address.
We accept secure online payments using MasterCard, Visa, and Discover. This includes debit cards, credit cards, and pre-paid cards displaying the MasterCard, Visa or Discover logos.
Yes! We are committed to protecting your privacy and online confidentiality. Our site uses special encryption to protect your personal information. Please refer to our Enrollment Policy for more information.
Login and navigate to the tab labeled 'Transcript.' From there, scroll down the page a little and look for an icon to print your certificate.